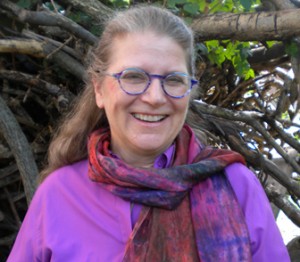 Bonnie Sue Stein has been Executive and Artistic Director of GOH Productions (formerly 7 Loaves Inc.) since its founding in 1982. Before taking the helm of GOH Productions she was Program Associate of Performing Arts at The Asia Society.  Over the years, she has also maintained an artistic career as an independent director/choreographer and performer.
Stein frequently travels to Japan, East Europe, the Middle East and Central Asia for performing arts projects, professional exchanges and artistic collaborative projects. These collaborations include working with producers and artists from Palestine, Japan, Uzbekistan, Korea, Thailand, Estonia, Czech Republic, Palestine, and in the USA. As the Managing Director for The School of Hard Knocks, she has overseen numerous national and international company projects. Closer to home, in 2011 Stein established Avenue C Studio, as a new home for GOH's after school dance program East Village Dance Project, and in 2018, the studio welcomed a new partnership with Moving for Life. In the recent past, she has consulted on projects with St Ann's Warehouse, The Foundry Theatre, La MaMa, CEC ArtsLink, National Yiddish Theatre Folksbiene, and other New York based organizations. She is consultant to Ralph Lee, award winning mask and puppet designer and director, and works closely with Czechoslovak-American Marionette Theatre to develop their annual New York performance seasons. Stein has toured worldwide with Kristjan Jarvi's Absolute Ensemble, a renowned music group.
As a writer, Stein has contributed articles on performing arts to Dance Magazine, The Village Voice, The Drama Review, Danceinsider.com and program notes for various performing arts venues from BAM to Kennedy Center. She wrote an essay on Japanese Butoh pioneer, Kazuo Ohno for the book, Fifty Contemporary Choreographers (published in the UK), and contributed an essay on Butoh dance to the award-winning book, Moving History / Dancing Cultures: A Dance History Reader, (Wesleyan University Press). She has lectured on the performing arts of Japan in universities, art centers and festivals in the U.S. and Europe. She also translated Robert Wilson's PATIO, into Japanese in the 1970s.
For GOH she produced three documentary films, Faust on a String (1992) about Czech marionettes (Golden Eagle Award); Moon Pulse (1995) directed by Estonian choreographer Marika Blossfeldt (with Estonian TV), and The Ivye Project (1999) directed by Tamar Rogoff (Belarus / Lithuania / US Production), and co-produced a number of video films with The School of Hard Knocks, Absolute Ensemble, Czechoslovak American Marionette Theatre and international artists.
In the late 70s and early 80s, she choreographed her own works in New York City, Estonia, and in Japan. She created a piece for the first contemporary dance company in Estonia (Nordic Star) in 1990, after that country became independent from the Soviet Union. The work, Walking to America/The Journey, included a new 35-mm film created for the performance with Esto Film, and music by Estonia's cultural minister/composer, Lepo Sumera.  In the early 1980s, she collaborated with Ann Wilson (director) and Michael Rush (director/actor) on several theater projects and was supported by the Connecticut Commission for the Arts. In 2014, she directed The Belle of Amherst, produced by long-time colleague Lynn Kable and AGAR, in a 17th century home in Amherst, Virginia.  Currently, she is working with colleague Sherry Erskine, to digitize their video art work from the 1970s.
Bonnie was born in Detroit, Michigan. Her grandparents were from Belarus, and migrated to the USA in the early 20th century. She moved from Michigan to New York City in 1979 and gave birth to Sarazina Joy Stein in 1992.
photo by Karen Hatch