in association with
CZECHOSLOVAK-AMERICAN MARIONETTE THEATRE
presents
"THE LIFE AND TIMES OF LEE HARVEY OSWALD"
or, The Most Unnatural Murder and Dastardly Assassination of John F. Kennedy by that Bloodthirsty Villain Lee Harvey Oswald (or someone else–pick your favorite conspiracy theory), as represented by fine hand-carved Marionettes and life-like Mannequins of Choicest Linden Wood.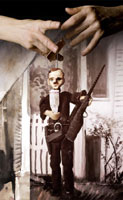 WHERE AND WHEN: November 2-19, 2017
La MaMa E.T.C. (First Floor Theatre), 74 East Fourth Street (betw. Bowery and 2nd Ave.)
Presented by La MaMa in association with GOH Productions, and as a co-production of Czechoslovak-American Marionette Theatre, a resident company at La MaMa, andTheatre Kapow of New Hampshire.
Thursdays through Saturdays at 7:30 PM, Sundays at 3:00 PM
The performance is designed by Michelle Beshaw with "cranky" animation art by David Michael Friend, and features Deborah Beshaw, Michelle Beshaw, Vít Hořejš, Sarah Lafferty, Valois Mickens, Jon L Peacock, Jeffrey Roth and Ben Watts
Box office (646) 430-5374, www.lamama.org
LISTEN TO REVIEW FROM BROADWAYRADIO!
Running time: 99 minutes.