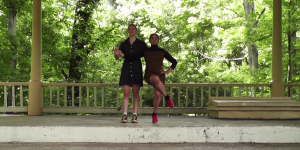 Saturday, June 3, 2017, 4pm to 8pm and Sunday, June 4, 4pm to 8pm
Join the El Jardin del Paraiso and Avenue C Studio Group as we  launch a new annual dance festival featuring Lower East Side groups, East Village dance youth, professional companies, duos, and soloists.
Performers include: BM Movement, East Village Dance Project, Rod Rodgers Dance Youth Company,Sarazina Stein, Amanda Klajbor, Anna Wotring of nAdA. Yoshiko Chuma, Lauren Kravitz & Shantel Prado, Katharine Pettit Creative, Lower Manhattan Arts Academy, Lynn Needle/Art of Motion Dance Theatre, Billy Blanken / Sheep Meadow Dance Theatre, Christopher Nunez, and more….
The two-day festival will host dance workshops and performances from 4:00 p.m. – 8 p.m
photo: BAIT by Lauren Kravitz and Shantel Prado