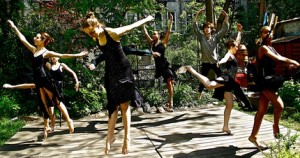 Dance Fest LES 2017, the first of an Annual 2-day Summer Dance Festival will take place in June 3, 4, 2017 at the community garden, El Jardin del Paraiso, in the Lower East Side.  A dance stage will be built in the community garden and activities open to all will take place from early afternoon to dusk.
The festival features neighborhood dance artists, and is a new platform for youth and adults (age 4 and up) to discover their voice through dance, either as a participant and/or an audience member. Workshops will be given throughout the day and youth dance groups and professional companies will be performing in the early evening. Attendance to all events is free for the public with a suggested donation.
Avenue C Studios is working in partnership with El Jardin del Paraiso to create and present this new community-based festival.