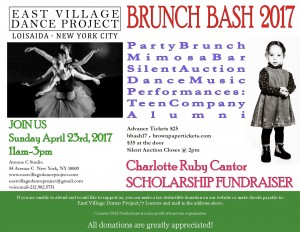 APRIL 23, 2017 from 11 AM TO 4PM

Join me for a Bloody Mary, snack on delicious treats from local East Village eateries and bid on the auction!
All for the low price of $25!  (crazy right?)
BRUNCH BASH 2017
AVENUE C STUDIO 55 AVENUE C, near 4th Street
HELP SUPPORT THE CHARLOTTE RUBY CANTOR SCHOLARSHIP FUND OF
EAST VILLAGE DANCE PROJECT'S YOUTH PROGRAM!!

Auction items include wonderful tickets to: ST ANN'S WAREHOUSE, NEW YORK THEATRE WORKSHOP, THE JOYCE THEATER, BAM, LA MAMA, and more!

Buy a ticker for a friend, or family member who cannot afford it!
Buy a ticket for yourself!
Buy tickets for Scholarship Fundraiser Brunch Bash 2017!