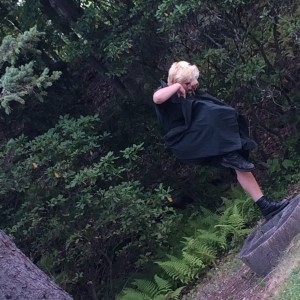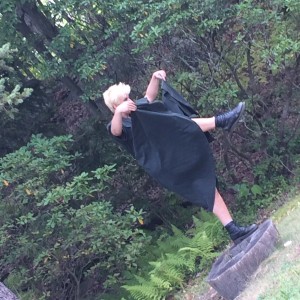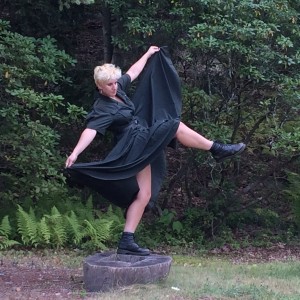 Sarazina Joy Stein, a native New Yorker, began dancing at age 4 with Martha Tornay's East Village Dance Project (EVDP), was a founding member of EVDP Teen Co, performing at La MaMa, Abrons Arts Center, HOWL Festival, NYU Skirball Theatre, 92nd St. Y, FAB Dance Festival, and in works by Ellen Kornfield and Nicole Wolcott. In 2010 she graduated from EVDP with her own solo. She danced in Larry Keigwin's Bolero, Delfos Danza's Full and Empty and in work by Katie Martin. She received her BA from Hampshire College (2014), and created her graduate performance To a Butter World, exploring indulgence, beauty, and social engagement. In NYC, She performed Collapsed Reverberation (2015) at The Brick Theatre; Mouths, Tongues, Ok Sure (2016) at Movement Research's Open Performance; All Each Other Has (2016) by Bryan Strimpel at City Center Studios; Head Above (2017) with Anna McDunn at SpringUp Festival at Hudson Guild Theater and on tour to Allentown; Dance Precautions (2017) at Dance Fest LES; and No Eyes (2018) at Spoke the Hub's Winter Follies. With GOH artist Carrie Beehan, she appears on music videos, Pilot Light and Wrap It, Sell It. She was a Production Intern at Movement Research as well as a Production Apprentice at New York Live Arts, and is now a freelance theatre electrician and technician. She tackles day to day life with a bounce in her step (literally)!
Soft Stones Dance was founded by Amanda Klajbor and Sarazina Joy Stein in 2017.  New York City based dancers, movers, and performers, they work collaboratively and with other artists on projects throughout the city. Their work is primarily feminist, and focuses on what it means to be a woman in the Urban Jungle; questioning how to embody the complexities and norms that are forced upon women day to day. Soft Stones Dance premiered their piece, "No Eyes" at Spoke the Hub's Winter Follies 2018.
nAdA is a new dance company founded in 2017 by Sarazina Joy Stein, Amanda Klajbor and Anna Wotring. They premiered their piece "Dance Precautions" at Dance Fest LES, and from sidewalks to street crossings, you'll find them loitering with panache.